By:brightwebtv.com/nana asare barimah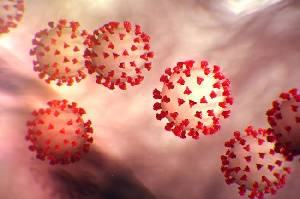 The novel coronavirus cases in Ghana have risen to 195 according to the Health Minister, Kwaku Agyemang Manu.
This is up from 161 just yesterday, Tuesday.
The breakdowns of cases in the regions are Greater Accra – 174; Northern Region – 10; Ashanti Region – 9; Upper West Region -1; and the Eastern Region – 1.
Recovered and discharged person stand at 38
Ghana's Case Count is 195
General surveillance is 106
Out of 106 – 3 have recovered and discharged
18 have been sent home pending a second test
80 in facilities undergoing treatment.
79 tested positive under mandatory quarantine in Accra.
39 have been moved home for home care.
In Tamale, 10 persons have been quarantined, awaiting diplomatic protocol for repatriation.
According to Kwaku Agyemang Manu, the Greater Accra Region has 174 of these cases, the Northern Region has 10, the  Ashanti Region has nine, the Upper West Region has one and the Eastern Region also has one known case of the virus.
There are currently 58 infected persons continuing treatment at home after 20 of them were recently discharged.
In the Greater Accra Region, a 10-day compulsory house-to-house Coronavirus tracing and testing exercise has begun in the Ayawaso West Municipality.
The Ayawaso West Municipality has been identified as a hotspot in the Greater Accra Region.
Source: Ghana/otecfghana.